Become a Financial Whizz Without the Finance Degree: A Masterclass Designed for Non-Finance Executives
Navigate through the financial maze with our easy-to-understand Finance Masterclass. Get to grips with financial reports, budgets, and other key financial terms without getting lost in the jargon. This course is perfect for non-finance executives looking to enhance their understanding and manage their business finances more effectively.
Mastering Business Finances Course
Empower Yourself: Learn Accounting Made Easy for Non-Finance Managers
Grasp the core concepts of accounting with our straightforward, simplified program. Designed specifically for non-finance managers, our course breaks down the complexities of accounting, helping you to confidently understand and utilize financial data.
Demystifying Business Finance for Non-Finance Professionals: Master the Art of Finance
Take control of your organization's financial future. Our comprehensive course offers non-finance professionals an opportunity to delve into the world of business finance. You'll learn everything you need to know to interpret financial data and make strategic decisions.
Courses Available Under: Mastering Business Finances Course
Mastering Business Finances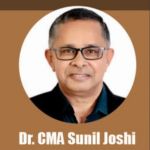 Dr. CMA Sunil Joshi's Finance Forum
Master Business Finance: A Step-by-Step Guide for Non-Finance Executives
No more head-scratching over financial reports or budgets. Our step-by-step guide helps non-finance executives to learn and understand the intricacies of business finance. Arm yourself with the knowledge you need to lead your organization to financial success.
Mastering Business Finances Course Courses
Our step-by-step guide is designed to make learning business finance an achievable goal for every non-finance executive.